Courses
The first step to taking the training is to add a course product key to your account.
How to add a course product key to your account >
Each course may have its own unique rules and settings. Courses may implement the following settings:
limit the time available for an exam

limit the number of exams attempted before requiring a mandatory timeout period

chose a unique exam passing score

require exam supervision

allow for expedited refresher training content provide cumulative exams on all selected chapters, or provide individual chapter exams.
In courses that have a time limited exam, you will see a countdown time in the upper right-hand corner of the exam page. When the exam time has expired, the exam will automatically be scored. You will no longer be able to answer any additional questions or change any previous questions for that exam attempt.
Courses using the exam timeout setting will require students to wait a pre-specified number of days after a pre-specified number of consecutive failed exam attempts. A passing exam attempt will reset the number of attempts to zero.
Courses can implement a minimum pass score. An exam pass score can range anywhere from 50 to 100 percent. For an exam to be eligible for a certificate of completion, the exam score must meet or exceed the minimum pass score.
Exams requiring supervision must have an appointed exam facilitator enter their name and consent to monitor the exam before the exam can be started. The exam facilitator must then sign the certificate of completion for it to be valid.
Courses that provide refresher training content will allow returning students to that course to skip through verbose training material.
Examination may occur at the end of each chapter, or at the end of the entire course. When exams occur at the end of each chapter, the minimum pass score must be met for each chapter exam. When exams occur at the end of the course, only the entire final exam must meet the minimum pass score.
Course Settings:
Available from the settings tab (gear icon). This tab contains important information concerning minimum pass score, how long your certificate will be valid for, if your exam contains attempt restrictions, who your administrator is, and more.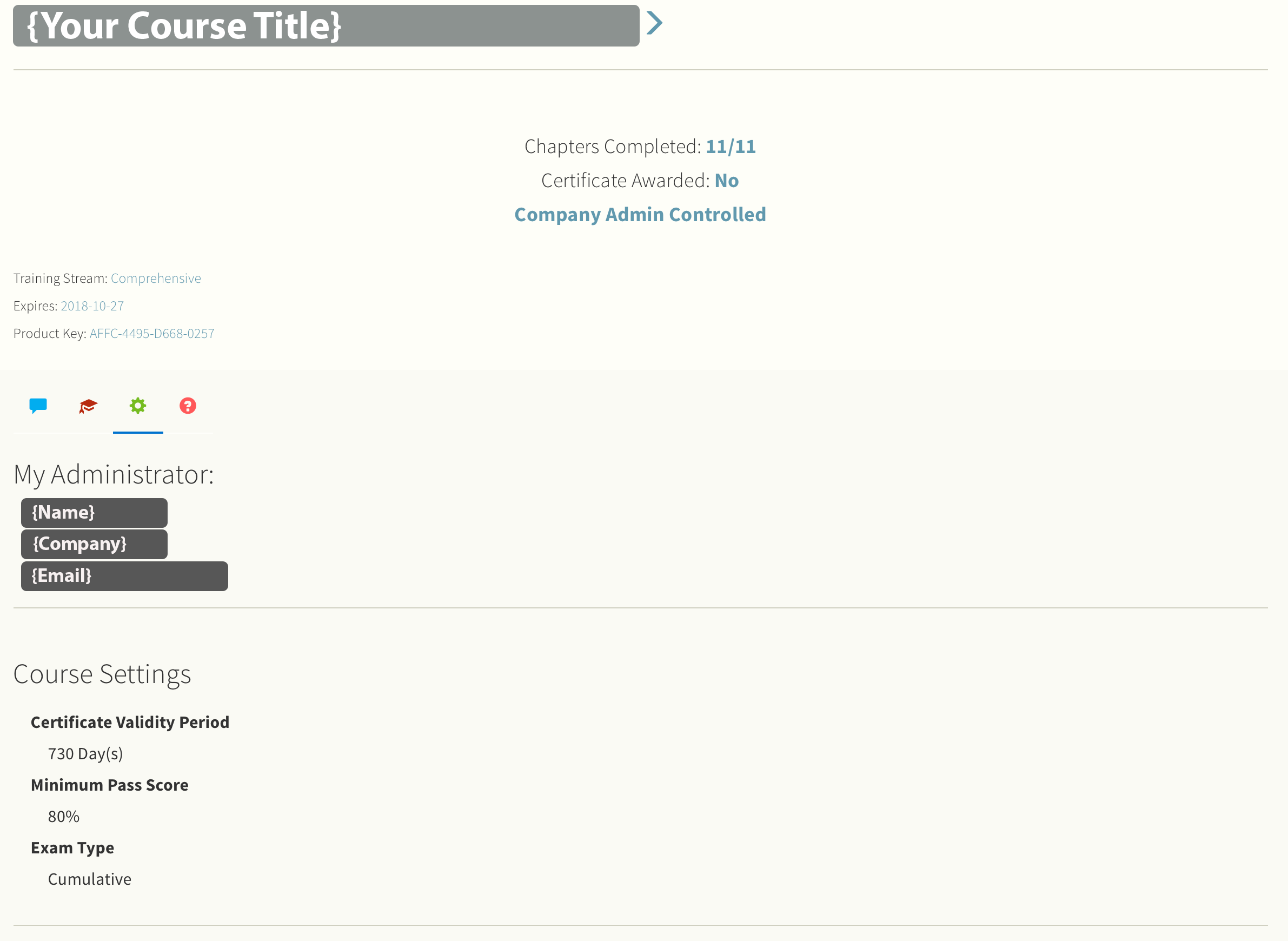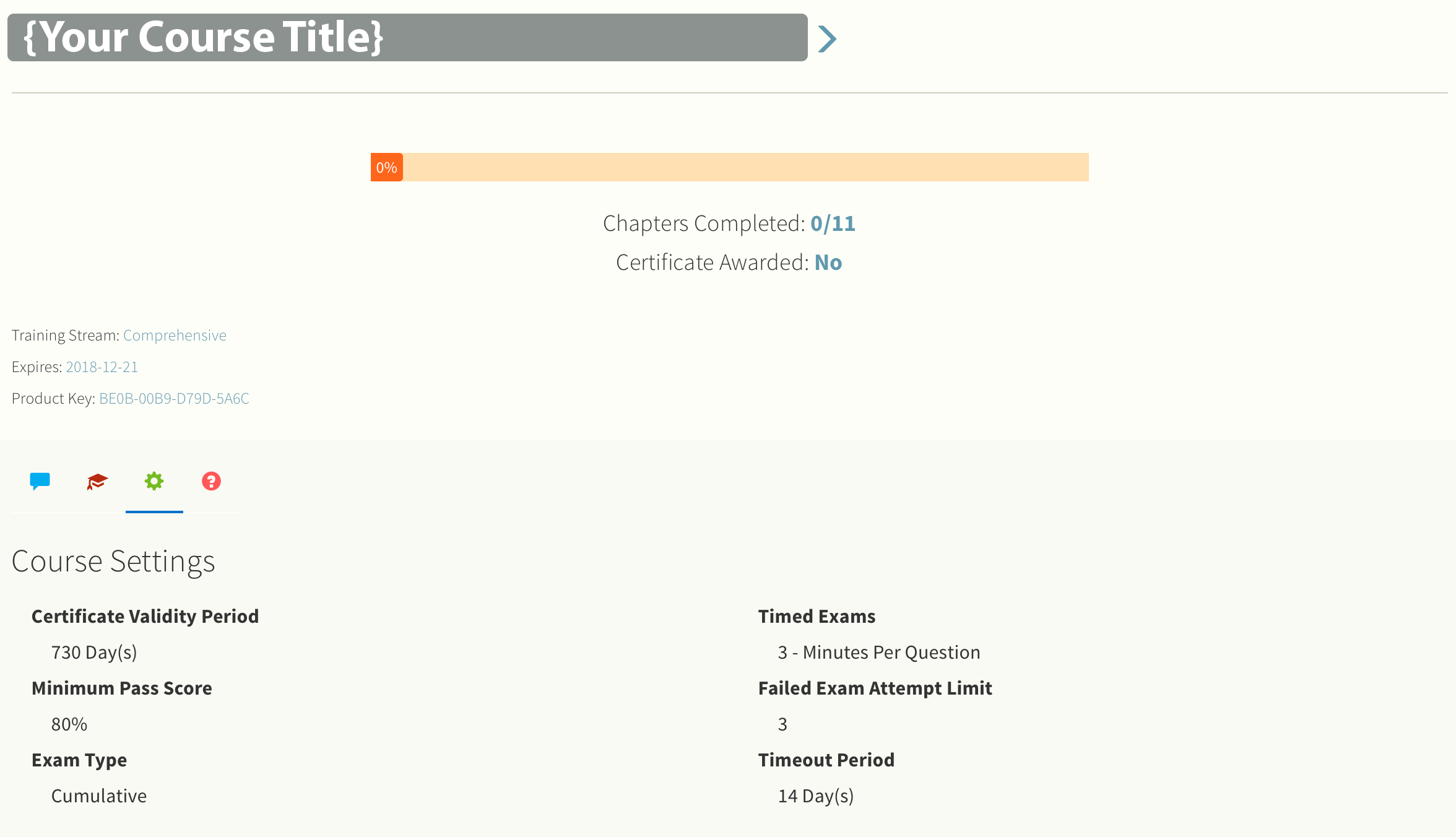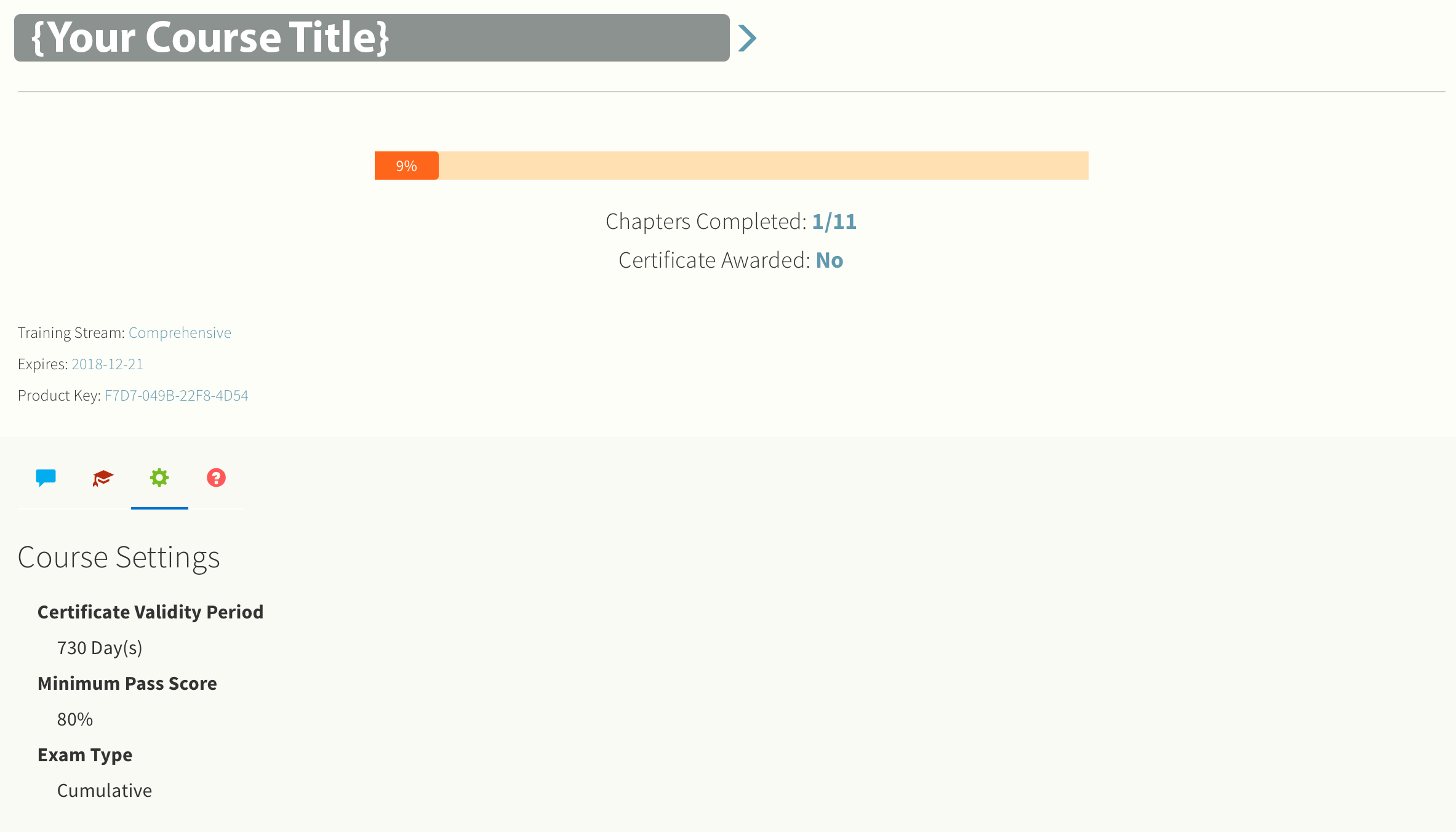 Chapters
There are four types of Certification Requirements that apply to each individual chapter. On each course chapter menu, a Certification Requirement will be displayed for that chapter describing its requirements.
Chapters with a "Required" status must be taken as part of the course.
Chapters with an "Optional" status may be skipped and are not needed to complete the course.
Chapters with a "Recommended" status may be skipped, but their information may be useful for your job requirements. They are not needed to complete the course however.
Chapters with "Disabled" status cannot be selected and therefore can be disregarded.
If an optional chapter is not completed in the training course, examinations will not test on that chapter's material and credit will not be applied to the course completion certificate for that chapter.
It is your responsibility as a student to ensure you have taken all optional chapters necessary to fulfill your job requirements.
Exams
Before a student can take a cumulative exam, they must have completed all the course's required chapters, in addition they must have completed any optional chapter they wish to receive credit for.
For courses with chapter-based exams, a student will only have to complete a single chapter in which they want to write an exam for.
Cumulative exams will provide a completion certificate immediately once a passing mark is obtained.
Courses with chapter-based exams will only produce a completion certificate once all required chapters have a completed exam.
Questions?